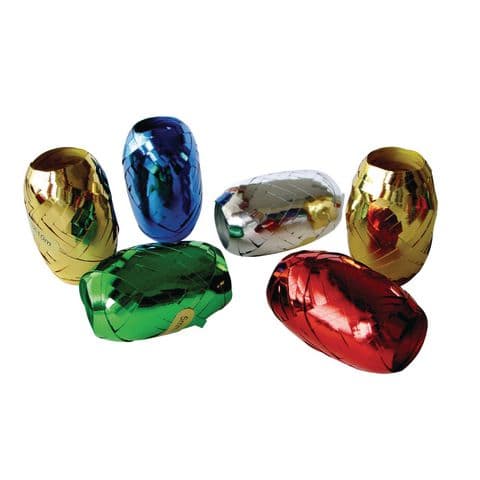 Metallic Curling Ribbon, Assorted Colours – Pack of 6
Key Features:
•Enhance presentation of gifts for loved ones, customers and colleagues
•Traditional and professional look for your presents
•Also suitable for crafts, cards, displays and more
•Assorted Metallic Colours for festive cheer
•Pack of 6 x Curling Ribbons

These metallic curling ribbons make the perfect festive finishing touch to your gifts and are sure to make your friends and family smile! With a choice of 6 assorted metallic colours, there is no shortage of options to personalise and brighten up your gifts.

The Festive Touch
Curling ribbons really improve the presentation of a gift, and create a traditional festive aesthetic that looks wonderful under the Christmas tree. Their metallic shine will get anyone into the Christmas spirit and vastly improve ordinary wrapping paper with a unique touch that stands out – if you want to show you have made an effort this year, curling ribbon is a must.

Easy Use
Curling ribbons are easy to curl and attach to your chosen project – simply run the blade of a pair of scissors across the non-metallic side of the ribbon until in curls into a tight ringlet.

The ribbons can also be wrapped around your presents to accompany and enhance bows, or used to attach gift tags to leave you with an overall professionally wrapped present that is sure to impress. This makes them not only suitable for children, but your customers, clients, colleagues and boss too!

Versatility
Alternate uses for curling ribbons include sticking them on cards and crafts, using them for balloon string, to decorate displays, enhance collages and scrapbooks, or even to incorporate into costumes when playing dress up! With endless wonderful versatility, curling ribbons are definitely an essential this Christmas.

Dimensions:
•Width: 5mm
•Length: 10m .