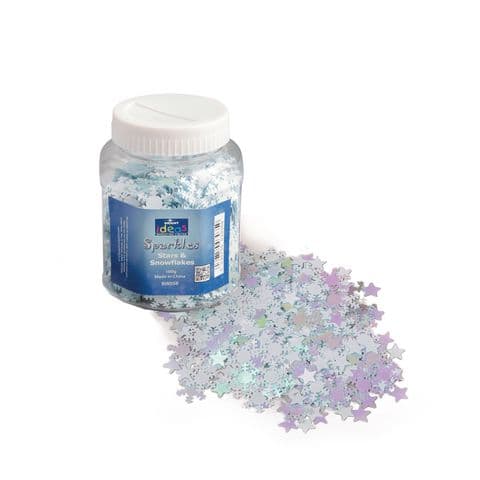 Star and Snowflake Shaped Sequins, White and Iridescent – 100g Tub
Key Features:
• Star and snowflake shapes
• Assortment of white and iridescent colours
• Perfect for any Christmas craft project
• Shaker tub for easy dispensing
• 100g Tub

Add some seasonal sparkle to your Christmas craft projects with these Star and Snowflake Sequin Shapes! With an endless variety of uses, they are an essential in any classroom this year.

These sequins come in the shape of stars and snowflakes, with some pure white and others an iridescent colour that glistens with blue, green and pink tones in the light. The colour of the sequins will resemble real stars and snowflakes, with their sparkle adding an eye-catching, intriguing touch to your project that will vastly improve the look and feel of any winter or Christmas themed displays and crafts.

Please note these sequins do not contain holes for sewing, and are better suited to gluing. This is perfect for the classroom when making greeting cards, designing gift boxes, creating a costume or other general use with fabric, paper or card.

Children will not only adore decorating with the fun shapes, but find them easy to use too! The shaker tub flips open for easy and controlled dispensing so children can simply pour the sequins wherever they need to add some decorative sparkle. This also reduces mess and waste to save you money.

The jar is also designed for safe use by children, as it is made from plastic and therefore break resistant compared to glass alternatives. It will fasten tightly so the sequins don't spill, and can be used to store other resources when finished!

With 100g of sequins per tub, there are more than enough for the whole holiday season. .