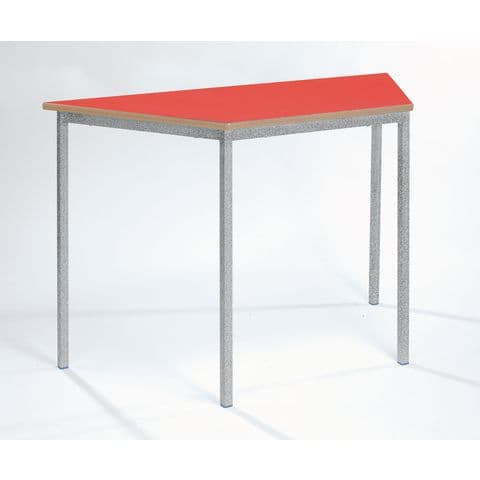 Large Trapezoidal Table, Fully Welded Frame, MDF Edges – 530mm(H)
A favourite in the classroom, and understandably so, is the fully welded MDF trapezoidal table. Although perfectly capable of enduring everyday classroom use, only the most economical materials are used to ensure your school can achieve the durability and style it deserves without breaking the bank. Kit out your classroom with these Metalliform tables, designed by experts with your school in mind.
Design
Each table has a
530mm
high worktop, making them
ideal for children aged 4-6
. For optimal comfort, posture, and lumbar support however, it is important to select chairs that suit this height; in this case, chairs with a seat height of
310mm
. In doing so, not only will children
avoid pain and poor posture
during long periods of sitting, but your classroom furniture will also comply with BS EN 1729:2016. These tables are of the large variety, but for those requiring less space, a smaller alternative is also available:
D13287
.
These tables are designed with a multi-purpose
trapezoidal shape
that is adaptable to anything from socialising to individual learning and group projects. The rigid lines of the table set it apart from semi-circular alternatives due to the
defined edges
that stop pupils fighting over space. Where one table is not enough, the
lightweight
construction makes it easy to push two tables together to form a circular workspace for larger groups in a classroom, canteen or social area. It is also easy to
spirally stack
the tables for efficient storage in smaller spaces that other tables do not provide.
With a
classic fully welded square tube frame
also incorporated into the design, adjoining tables will fit tightly together to create a tidy, seamless look, whilst remaining durable for a long life in even the most demanding classrooms.
Construction
Each of these tables is constructed using
18mm thick MDF
with a
high-pressure laminate finish
. This provides an
inexpensive
yet
durable
and
smooth surface
which makes the table both
stylish
and
functional
in a learning environment. This is accompanied by
polished and lacquered MDF bullnose edges
, again adding to the aesthetic whilst simultaneously providing
protection
against chipping and other accidental damage over time. Although ABS and Duraform PU edges also offer these benefits, they fail to match the natural look and endurance of MDF. Also durable is the
25mm steel square tube frame
underneath, which has been
fully welded
to keep the table intact throughout frequent use, re-arrangement or stacking. With this combination of materials, we can proudly offer a
5 year guarantee
to help you shop with confidence.
Dimensions
530mm x 1200mm x 600mm (H x W x D)
Personalisation
Choose from the following options when ordering to create a look that compliments your classroom:
• Top Colour: Beech; Maple; Ailsa; Blue; Green; Light Grey; Red; White; Yellow
• Frame Colour: Duraform Light Speckled Grey; Metallic Charcoal
Delivered fully assembled. Made in the UK. BS EN 1729:2016 compliant to encourage good posture in an educational institution when matched with 310mm chairs.For the same table in alternative heights, please see: 460mm(H) - D13292; 590mm(H) - D13295; 640mm(H) - D13296; 710mm(H) - D13297; 760mm(H) – D13298
Important Information - Furniture
• Fabrics - Images are for illustration purposes only, the actual fabric design and colour will be dependent on the fabric type and colour chosen when ordering.
• Colour Options – Colour chart and images shown on screen may vary from actual product.
• Please Note: Check all size, finish, colour options, descriptions and codes as returns may incur charges.
Delivered fully assembled. Made in the UK. BS EN 1729:2016 compliant to encourage good posture in an educational institution when matched with 310mm chairs.For the same table in alternative heights, please see: 460mm(H) - D13292; 590mm(H) - D13295; 640mm(H) - D13296; 710mm(H) - D13297; 760mm(H) – D13298