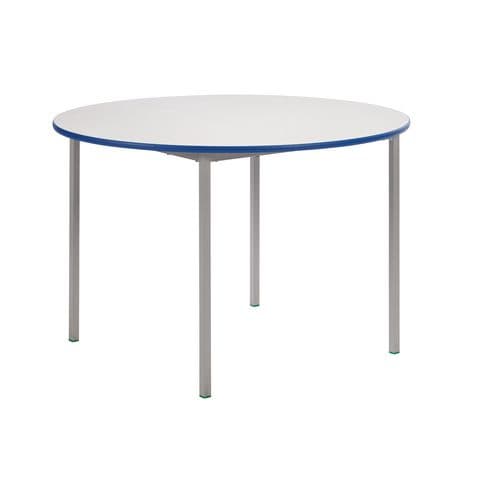 Circular Whiteboard Table, Fully Welded Frame, Duraform PU Edges – 590mm(H)
As the world becomes more conscious of paper useage, whiteboard tables are soon to become commonplace in every school, and with functional benefits applicable to all subjects, it is no surprise as to why. From practising equations to planning experiments, whether groupwork or individual learning, a whiteboard table is the most effective tool to encourage children to make mistakes and learn from them with confidence.
Design
Each table has a
590mm
high worktop, making them
ideal for children aged 6-8
. For optimal comfort, posture, and lumbar support however, it is important to select chairs that suit this height; in this case, chairs with a seat height of
350mm
. In doing so, not only will children avoid pain and poor posture during long periods of sitting, but your classroom furniture will also comply with BS EN 1729:2016. These tables are standard diameter, but for those who require more space, a larger alternative is also available:
D53115
.
Whiteboard tables have a
variety of applications across multiple subjects
. These include notemaking, practicing drawing techniques, creating graphs, learning visual-spatial reasoning, or completing calculations for maths equations such as long division or area and perimeter. Unlike paper, a whiteboard surface allows children and teachers alike to make temporary notes and calculations or learn a new skill
without having to permanently keep their mistakes
- the latter of which can cause confusion when re-reading or revising from notes in the future. Environmentally conscious schools can now
save paper
whilst keeping children's notes
neater
and
more relevant
for more
effective learning.
Standard A4 whiteboards are often flimsy with limited space, and can become easily lost or damaged. A whiteboard table on the other hand creates a
large amount of free space
that accommodates both individual and group learning as required. In either scenario, this extra space makes it easier for a teacher to review and edit a student's work, or draw their own example next to it for more
bespoke
teaching and learning. For visual learners, fast-thinkers, or children that have don't always get things right the first time, a whiteboard table is a wonderful classroom tool to
bring out their best.
These tables are designed with a
circular
shape to assist with
groupwork
or
socialising
, making them ideal for the classroom, canteen or social spaces.
Construction
Each of these tables is constructed using
18mm thick MDF
as a stable and
hardwearing
base, with a
high gloss surface
designed for the use of
drywipe
pens. The
smooth, scratch-resistant
surface is easy to draw and write on, and
effortlessly wipes clean
after use for a
functional
yet
stylish
addition to any classroom.
This is accompanied by
high impact Duraform PU edges
, which add to the aesthetic whilst simultaneously providing
protection
. They provide a more
vibrant
look than plain MDF edges, with three different textured colour options to choose from. Duraform is also famous for its ability to
resist scratching and chipping
, as is applied as a spray to avoid peeling that can be a problem with alternative ABS edges.
Also durable is the
25mm steel square tube frame
underneath, which has been fully welded to keep the table intact throughout frequent use, re-arrangement or stacking. Stacking is made easy with the lightweight construction and spiral stacking mechanism, designed to save space in smaller classrooms. With this combination of materials, we can proudly offer a
5 year guarantee
to help you shop with confidence.
Dimensions
590mm x 1100mm (H x Dia)
Personalisation
Choose from the following options when ordering to create a look that compliments your classroom:
• Edge Colour: Charcoal; Red; Green
Delivered fully assembled. Made in the UK. BS EN 1729:2016 compliant to encourage good posture in an educational institution when matched with 350mm chairs.For the same table in alternative heights, please see: 460mm(H) - D53107; 530mm(H) – D53108; 640mm(H) - D53110; 710mm(H) - D53111; 760mm(H) - D53112
Important Information - Furniture
Delivered fully assembled. Made in the UK. BS EN 1729:2016 compliant to encourage good posture in an educational institution when matched with 350mm chairs.For the same table in alternative heights, please see: 460mm(H) - D53107; 530mm(H) – D53108; 640mm(H) - D53110; 710mm(H) - D53111; 760mm(H) - D53112