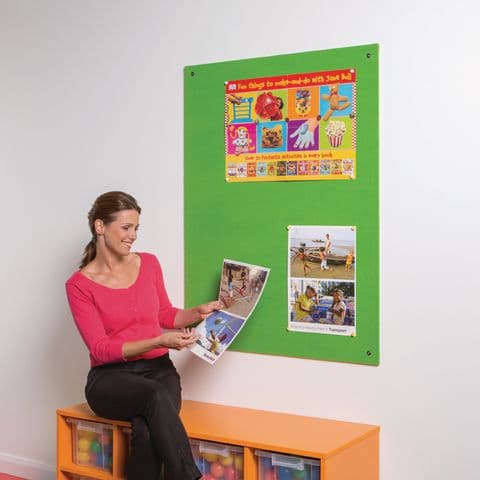 ColourPlus® Metroplan Frameless Felt Noticeboard - 600(H) x 900mm(W)
Key Features:
•ColourPlus® - vibrant and contemporary colour finishes
•Loop Nylon Felt Cloth – accepts pins and hook and loop
•Frameless – saves money, better for the environment
•Can seamlessly butt multiple frameless noticeboards together
•Can be mounted horizontally or vertically
•Ideal for saving money where frame is not necessary

A ColourPlus® Frameless Felt Noticeboard is the perfect, simplistic display solution for those on a tight budget who don't want to compromise on style. Accepting both pins and Velcro® and available in six vibrant and contemporary ColourPlus® colours, these noticeboards are highly versatile with an understated traditional look to get the job done for less.

Quality Surface
The noticeboard surface is made from loop nylon felt cloth that accepts pins and hook & loop to affix various posters, flyers, printouts, plastic wallets and other resources. Loop nylon felt is stronger than other noticeboard materials, with the ability to hold hook & loop and heavier items without tearing or losing grip.

Unframed
Aside from a smooth, borderless aesthetic that seamlessly fits right into your existing décor, frameless noticeboards have practical benefits too.

As they are unframed, these noticeboards help save money where aluminium or wood would increase cost, as well as have an environmental impact. Additionally, in areas such as offices, staffrooms and some classrooms for example - where there is low traffic, low chance of contact, or low risk of children getting injured by the noticeboard corners - a frame is not necessary at all. It is in such areas a frameless noticeboard is recommended to save money without impacting on quality.

Frameless noticeboards also allow better colour matching without unsightly aluminium, and can be butted seamlessly together as required for a larger space.

Versatile Mounting
A noticeboard is an essential in any educational or professional environment where students, staff and visitors can be shown announcements, advertisements, updates, health and safety information and other useful messages. Due to this versatility, it is important for the noticeboard design to reflect this too.

Each noticeboard can be mounted either horizontally or vertically based on preference, to save you wall space, and to allow you to arrange multiple boards together. Capped fixings are supplied, which not only look professional and add a finished look to the boards, but prevent tampering and protect people from injuring themselves on exposed fixings.

Colour Options:
•ColourPlus® Apple Green
•ColourPlus® Cyan
•ColourPlus® Lilac
•ColourPlus® Magenta
•ColourPlus® Orange
•ColourPlus® Purple

Dimensions:
600(H) x 900mm(W)

Important Information - Furniture

• Fabrics - Images are for illustration purposes only, the actual fabric design and colour will be dependent on the fabric type and colour chosen when ordering.

• Colour Options – Colour chart and images shown on screen may vary from actual product.

• Please Note: Check all size, finish, colour options, descriptions and codes as returns may incur charges .