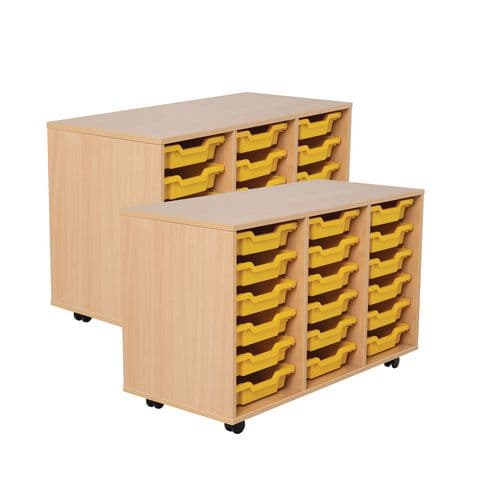 Metroplan Triple Column Tray Storage Unit with 18 Shallow Gratnells Trays – Set of 2 Units
Key Features:
• Set of 2 x triple column units
• Includes 18 shallow trays per unit
• 18mm MFC body with 2mm ABS edges
• Lockable castors
• Choice of carcass, edging and tray colours

No classroom is complete without this storage essential. Each Metroplan tray unit has been carefully constructed to meet the demands of its environment, whilst offering a contemporary design to match every colour scheme. As a premium option, only the highest quality materials are sourced from trusted, long-time suppliers, with additional care taken during the manufacturing process to ensure every bespoke unit is up to scratch. As a staple sure to be in heavy use for many years, rest assured that Metroplan tray units are a sensible choice to avoid disappointment and save money for your school.

This item is a special offer including 2 x Tray Units to help you save money. The same units are available individually with product code D58017.

Design
Each unit consists of three columns and 18 shallow trays, ideal for neatly organising paper, books and smaller stationery items. A triple column design offers a generous amount of storage space whilst remaining a suitable height for primary school aged children to reach.

Each unit is mobile to aid self-installation and assist staff when cleaning or rearranging classrooms. The castors are also lockable to ensure safety both when in storage and in use.


Metroplan tray units can be fully customised with the option to mix and match trays (on request). You can choose any combination of colours you like, whether as a visual aid, to match a colour scheme, or simply make a classroom more exciting. Edges are colour matched with the units for a guaranteed contemporary design.

Construction
These units are constructed using 18mm thick melamine faced chipboard (MFC); a classroom favourite that assures high-level strength and durability with frequent, heavy use. To complement this is the use of 2mm ABS edges; smooth to the touch, and as attractive as they are protective to both the user and the unit itself. In fact, ABS edges completely eliminate the risk of splinters and scratches to the skin, and protect the MFC against chipping for a full and satisfying lifespan.

The trays provided are manufactured by Gratnells, one of the top education storage specialists in the UK, and the go-to tray provider for the majority of schools. Their popularity can be attributed to the super-strong polypropylene construction that ensures a lifetime of use at an affordable price. The trays are also compatible with many other furniture items to enable future upcycling.

With such a high-quality construction, we are proud to offer a 25 year guarantee on this product to stretch your budget further.

Dimensions
• Unit: 650 x 1045 x 490mm (H x W x D)
• Shallow Gratnells Trays (each): 75 x 312 x 427mm (H x W x D)

Personalisation
Choose from the following options when ordering to create a look that compliments your classroom:
• Carcass/Edge Colours: Beech/Beech; Maple/Maple; Grey/Grey; White/Grey
• Tray Colours: Translucent; Jet Black; Snow White; Jolly Lime; Cyan Blue; Midnight Blue; Fuchsia Pink; Plum Purple; Tropical Orange; Light Grey; Silver; Grass Green; Sunshine Yellow; Royal Blue; Flame Red

Units supplied with trays and castors and delivered fully assembled. Made in the UK. BS EN 16121:2013+A1:2017 compliant for strength and stability. FIRA certified. The MFC used in this product is sourced from FSC certified suppliers.

Important Information - Furniture

• Fabrics - Images are for illustration purposes only, the actual fabric design and colour will be dependent on the fabric type and colour chosen when ordering.

• Colour Options – Colour chart and images shown on screen may vary from actual product.

• Please Note: Check all size, finish, colour options, descriptions and codes as returns may incur charges.