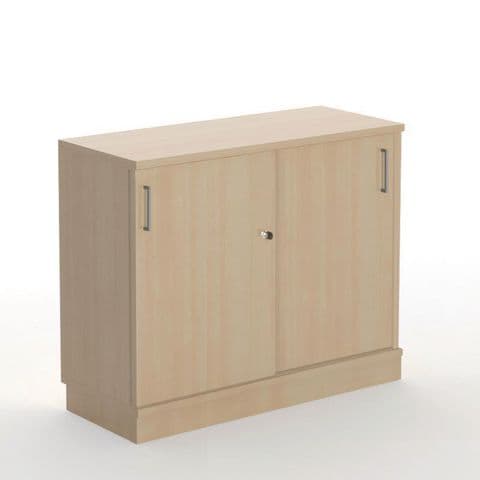 Cabinet with Lockable Sliding Doors, 2 Adjustable Shelves – 1120mm(H) x 1000mm(W)
Key Features:
• 1120mm tall cabinet containing 3 shelf compartments
• Adjustable shelves x 2
• Lockable sliding doors
• 25mm MFC body with 3mm edges
• Choice of carcass colours

Ideal for a classroom, office, reception area or staff room, this cabinet is not only sleek and modern in its design, but practical too. Alongside 2 adjustable shelves for varied storage needs, the cabinet also boasts lockable sliding doors and a 25mm thick MFC body for maximum safety. Where you need to limit access without limiting your storage capabilities, this cabinet is the ultimate solution.

Adjustable Shelves
The design incorporates 2 adjustable shelves to create 3 shelf tiers, suitable for not only books, but lever arch files, stationery, paper and more. Adjustable shelves help accommodate larger items and provide adaptability for changing storage needs, making them a worthwhile investment for long term use. Each shelf can be fixed securely to the desired height, allowing the shelf to be fully and safely supported at full capacity.

Lockable Sliding Doors
With the use of sliding doors, this cabinet is not only sleek and modern in its design, but practical in smaller, cramped spaces where ordinary doors would be difficult to open.

With lockable doors, you can rest assured the contents of your cabinet will remain protected against unauthorised use. This makes it perfect for keeping unsafe substances and specialist equipment such as those used in science labs, as well as answer sheets or stationery that is at risk of being used without permission.

Construction
Each of these cabinets is constructed using 25mm thick melamine faced chipboard (MFC), a common material in classrooms and offices due to its strength and durability under frequent, long term, or heavy use. Accompanying this is 3mm MFC edging to reinforce the cabinet in spaces where damage and chipping from impact are a high risk - but without affecting the authentic wooden look of the unit. The cabinet is also static for permanent status and safe usage in any environment.

With such a high-quality construction, we are proud to offer a 10 year guarantee on this product to stretch your budget further.

Dimensions:
1120 x 1000 x 425mm (H x W x D)

Conforms to the following standards: EN 527-1:2011; EN 527-2:2016; EN 1730:2012

Important Information - Furniture

• Fabrics - Images are for illustration purposes only, the actual fabric design and colour will be dependent on the fabric type and colour chosen when ordering.

• Colour Options – Colour chart and images shown on screen may vary from actual product.

• Please Note: Check all size, finish, colour options, descriptions and codes as returns may incur charges.