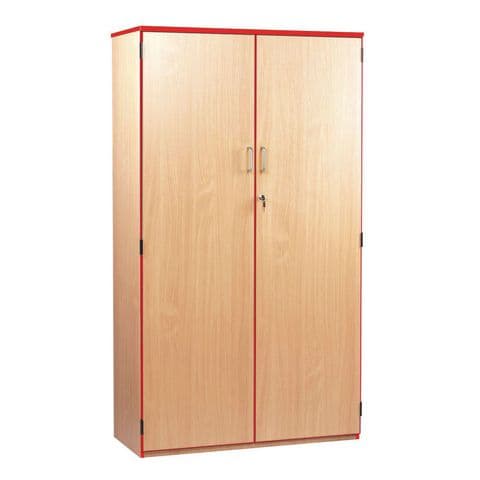 Coloured Edge Stock Cupboard, Beech/Assorted Edge Colours, Adjustable Shelves - with 6 Shelf Tiers
This convenient storage solution provides all the benefits of a bookcase, but with the added protection and security of a cupboard. In classrooms where damage to resources is a risk, or access needs to be limited to a teacher only, a stock cupboard is an invaluable piece of furniture.
Design
The internal design consists of
6 shelf tiers
, including
1 fixed shelf
and
4 adjustable shelves
to help optimise space. Each shelf is
25mm
thick and can be
fixed securely
to provide extra support and durability when storing heavy objects.
The
lockable
doors incorporated into the design make it possible to store books, files and other resources in a way that is accessible only to those with a key, keeping the contents protected from unauthorised use. Unsafe substances and specialist equipment such as those used in science labs can be kept safe for greater peace of mind, as well as answer sheets or stationery that is at risk of being used without permission. The doors also hide the contents to limit distractions, and provide a protective barrier against spillages in art and science classrooms.
The classic
beech
style finish can be enriched with either Apple Green, Cool Blue or Red
coloured edges
to colour-code the contents of your stock cupboard or simply match the colours of your classroom or school. The benefits of an attractive classroom aesthetic should not be underestimated either – to younger children, bright colours can be friendly and comforting, resulting in a more positive learning experience.
This stock cupboard has been manufactured to a height best suited to teachers, and allows things to be stored out of the reach of children. Limiting storage to one tall structure also helps to save space compared to other storage solutions.
Construction
The unit is constructed using
18mm thick
melamine faced chipboard (
MFC
), a common material in classrooms due to its strength and durability under frequent handling. This is supplemented with a protective laminated finish and
PVC edging
to create a smooth edge and prevent chipping. PVC is BPA free unlike the more common ABS alternative - which although more resistant to impact is considerably more expensive than PVC. In addition to this initial cost saving, the
25 year guarantee
assures great value for your school in the long term, helping its tight budget go further. The MFC used in this product is
FSC certified
.
Dimensions
1818 x 1030 x 477mm (H x W x D)
Personalisation
Choose from the following options when ordering to create a look that compliments your classroom:
• Edge Colours: Apple Green; Cool Blue; Red
Supplied with doors, adjustable shelves and castors and delivered fully assembled. Made in the UK. BS EN 14073-3:2004 compliant and FIRA tested for strength and stability.This stock cupboard is also available in Maple: D50526
Important Information - Furniture
• Fabrics - Images are for illustration purposes only, the actual fabric design and colour will be dependent on the fabric type and colour chosen when ordering.
• Colour Options – Colour chart and images shown on screen may vary from actual product.
• Please Note: Check all size, finish, colour options, descriptions and codes as returns may incur charges.
Supplied with doors, adjustable shelves and castors and delivered fully assembled. Made in the UK. BS EN 14073-3:2004 compliant and FIRA tested for strength and stability.This stock cupboard is also available in Maple: D50526