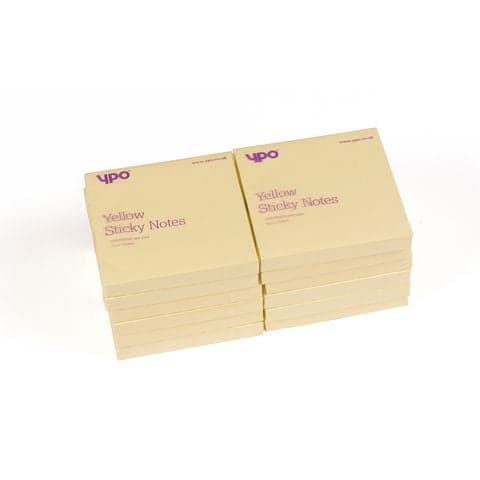 YPO Sticky Notes, Yellow, 76mm x 76mm - Pack of 12 Pads
Key Features:
•Attach to a variety of surfaces and documents without causing damage
•Economy product – ideal for short term temporary use
•Record to-do lists, reminders, and ideas in the workplace or at home
•YPO's version of the classic product, minus the pricetag
•Yellow – pack of 12

YPO Sticky Notes are our very own version of the leading brand's classic product, but without the pricetag. The repositionable notes use a low tack adhesive so they can stick to delicate surfaces like paper as well as PC monitors, walls and tables, without leaving any residue behind.

As they are also an economy option, YPO Sticky Notes are perfect for everyday short-term use, such as for to do lists at work or at home, or leaving messages to your loved ones. Sticky notes are particularly recommended for office workers, receptionists, students, people with busy lifestyles, and those with forgetful minds.

By purchasing a bulk pack of 12 sticky note pads from YPO, you will save money without compromising on quality.

Sticky Note Dimensions:
• H: 76mm
• L: 76mm .