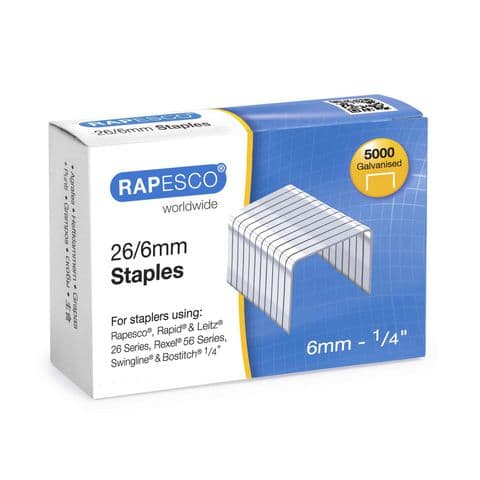 Rapesco 26/6mm Galvanised Steel Staples – Pack of 5000
Key Features:
•Premium quality staples – fit most desktop staplers
•High quality steel wire – precise, accurate, clean stapling with strong holding power
•Galvanised finish – resists general corrosion, long life expectancy
•Chisel point – easy insertion
•26/6mm size – holds 30 sheets of paper
Made from premium steel wire with a galvanised finish, these staples by leading brand Rapesco provide optimum performance, accuracy and durability time after time. Each staple is manufactured to exacting standards for precise, clean fastening and unbeatable holding power, and will insert easily into your 30 page documents with their sharp chisel points. For a long-lasting, general use staple that will not let you down, always choose Rapesco.
Galvanised Steel
Rapesco make sure to use the highest quality steel wire with a galvanised finish, meaning each staple has been coated with zinc for maximum durability. Galvanised steel staples are better able to cope with general corrosion, and will keep pages tightly together even when handled over time. For long-term applications or those travelling with documents, such durability is essential, and it is for these reasons that galvanised staples are the most common for all-round use.
Each staple also uses a chisel point, which is V shaped to enable easier insertion and ensure a strong hold.
Size and Type Guide
26 Type refers to the gauge of the wire, or the staple thickness. Staples of this type are best suited to delicate applications or thin materials, including general office use, paper sheets, furniture or automotive upholstery, vinyl flooring and picture frames. Considered a 'fine wire' staple, the 26 type is also ideal for keeping staples discreet with low visibility and no exposure at the back – perfect for that professional touch!
Finally, 6mm refers to the leg length, and should be chosen based on the thickness of the material you will be stapling. 6mm staples are able to strongly hold up to 30 paper sheets at one time, which is perfect for those smaller documents, presentations or reports. For anything else, the general rule is the leg length should be around 3 times the thickness of the material being stapled.
Compatibility
These staples are suitable with any stapler that accepts 26/6mm staples. This will be labelled clearly on the product or packaging.
This includes staplers in the following ranges:
•Rapesco 26 Series
•Rapid 26 Series
•Leitz 26 Series
•Rexel 56 Series
•Swingline ¼"
•Bostitch ¼"
Please also see our bestselling staplers of this type:
778427
,
778400
, and
778680
If you are unsure which staples are right for your stapler, check the underside of the stapler where the necessary information can normally be found.