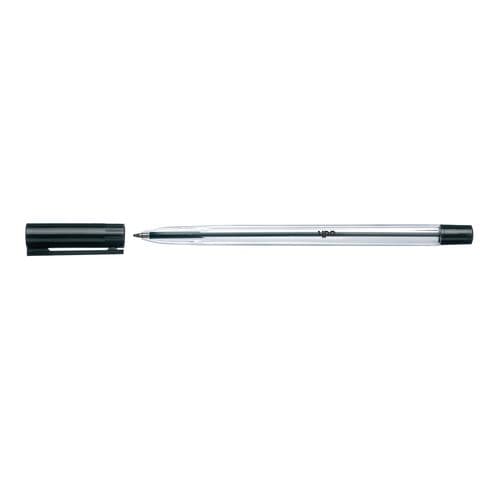 YPO Stick Ballpoint Pens, Black – Pack of 50
Key Features:
•For everyday writing tasks and taking on the go – versatile
•Extremely long lasting yet inexpensive
•Ink doesn't smudge or bleed, dries quickly, and has minimal risk of leakage
•Ball and socket mechanism – create smooth, controlled lines without skipping
•Black ink – pack of 50

Stick ballpoint pens, or biros, are a basic, everyday use pen for general writing tasks. As an inexpensive yet effective and very long-lasting option, every office, school and home needs a ballpoint pen on hand whether taking notes or completing homework. This pack of 50 YPO Stick Ballpoint Pens ensures the best value for the lowest price.

Ballpoint Pens
Ballpoint pens are an inexpensive, disposable type of pen unsuitable for refills, yet also last a very long time – in fact, it is said you are more likely to lose these pens than see them run out of ink!

The ink of a ballpoint pen flows onto the page through a metal ball and socket mechanism, which allows the user to draw long, smooth, controlled lines without skipping. These particular pens generate a medium line width of 0.7mm for precision and readability in equally measure.

For a non-specialist pen that does the job for everyday tasks, ballpoint pens are the best investment.

Convenient
Thanks to their practical qualities, ballpoint pens have become the 'go to' pen for instant, convenient use in any environment. With thick, oil-based ink, the boldness of lines can be easily controlled by adding or removing pressure, and even the thickest lines will not cause ink to bleed through the page. This is true for cheap, thin paper too!

This type of ink also dries quickly, doesn't smudge, and has minimal risk of leakage, making them versatile for left-handed use, quickly writing lines, or taking with you on the go.

Each pen has a clip on the lid to make sure you never lose it on those busy days, and clearly displays the ink level so you can always come prepared.

Black ink. Please use search for alternative colours. .