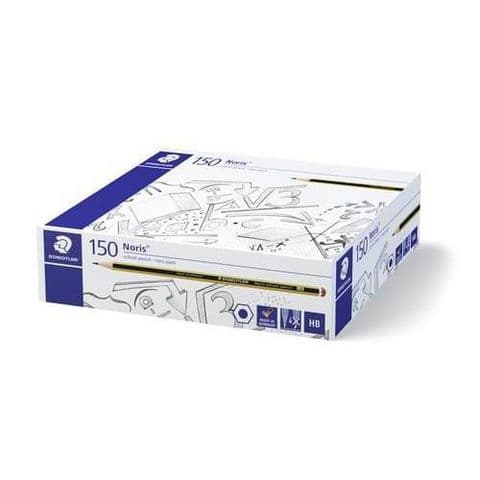 Staedtler Noris Pencils, HB - Pack of 150
Staedtler Noris HB Pencils have for over 40 years remained undoubtedly the most iconic classroom pencil in the UK. As a HB pencil, they fall in the middle of the lead hardness grading scale, making them a great all-rounder for general use. Whether sketching, drawing or writing for a project that is casual or important, Staedtler Noris HB Pencils are the premium choice for quality.
Iconic Design
With an unmistakable yellow and black striped design and red end, Noris HB pencils can easily be identified in a hurry. From recognition alone, students can confidently expect a high-quality HB lead to get the job done.
In terms of practicality, the classic hexagonal shape is easy to grip and control for all ages, with satisfaction guaranteed for students and professional artists alike.
Similarly, the polished finish is not only aesthetically pleasing, but a practical feature too, maintaining the quality of the wood and protecting it from moisture for a longer lifespan. For art classes, home schooling and learning on the go, your Staedtler Noris pencils are sure to remain in top condition.
Quality Lead
Cheap, economy alternatives often use low quality leads that result in inaccuracies and frustration. These pencils on the other hand use a special super-bonded lead formulation that is
break resistant
, meaning no more repetitive sharpening or breakages mid-way through a project to ruin your concentration. This is yet another feature that expands the lifespan of the pencil and saves your school money over time.
The velvety soft
HB
lead will also transfer onto paper in a way that is smooth, even and predictable, for a unique and satisfying experience every time. Much loved and for good reason, there is no classroom pencil superior to the Staedtler Noris.
FSC®-certified.
Pack contains 150 pencils. Wood from certified, sustainably managed forests.For the same pencils in different pack sizes, please see the following: Pack of 72 - 700185; Pack of 600 - 709867; Pack of 1500 - 709875
Classpack of 150 HB