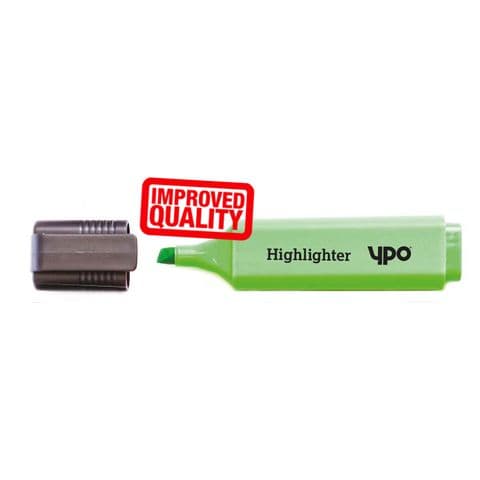 YPO Highlighters, Green – Pack of 10
Key Features:
•YPO Value – Familiar design based on the leading brand
•Add structure and focus to your notes, documents and more
•Water based ink prevents drowning out of text, yet fluorescent ink is highly visible
•Chisel tip – creates broad and fine lines (2mm – 5mm)
•Green – pack of 10

Based on the classic, familiar design of the leading brand, YPO Highlighters are a reliable and well-loved budget alternative to the premium option. Whether you are a student or professional, you are sure to find great convenience in the YPO Highlighter when your notes and documents require organisation, structure or focus.

Chisel Tip
Due to its shape, the chisel tip allows the user to draw both broad (5mm) and fine (2mm) lines depending on the angle at which the highlighter is held. This makes it adaptable to different font sizes, and versatile for use with documents, books, magazines, notes, lists and more. The consistent sharp, even, bold lines left behind by the chisel tips are clearly visible on the page for quick and easy scanning, aided by the beautiful vivid green colour.

Water-based Ink
With water-based ink, these highlighters are completely harmless to your health, making them safe for children and adults alike. Unlike alcohol-based alternatives, they are also odourless and will not drown out text, instead leaving text clearly visible whilst still drawing attention with their fluorescent colour.

With smoothly flowing ink and a comfortable shape that sits nicely in your hand, larger tasks will prove neither a problem for you nor the highlighter.

Please note: smudging may occur when highlighting some gel or water-based inks. .