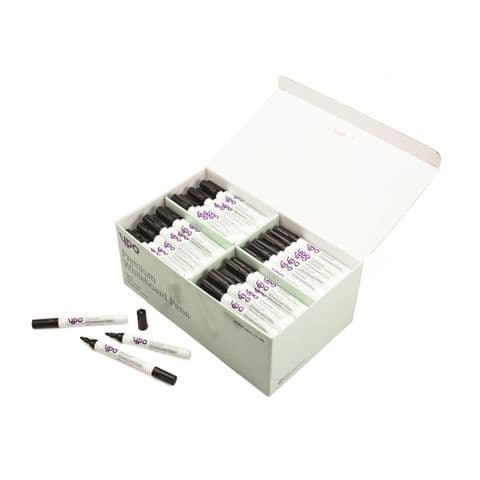 YPO Premium Drywipe Marker Fine Tip Assorted Pk200
Key Features:
• Premium product - leading brand quality for YPO prices
• Drywipe - suitable on whiteboards and other drywipe surfaces
• Tough, durable nibs that last
• Vivid European inks to extend write out length and save money over time
• Fine tips - for precise work, finer details, and more legible writing
YPO Premium Fine Tip Whiteboard Pens are specially formulated with vivid European ink to ensure the highest writing quality, longest lifespan, and best value for money. Designed specifically for classroom use, this classpack of 200 pens will remain reliable even under the toughest of circumstances.
Superior Quality
YPO Premium Whiteboard Pens match the exceptional quality of leading brands, with bold, smooth ink and tough nibs that effortlessly glide across the surface of a whiteboard. Every marking will flow from each pen precisely as intended, leaving marks that are legible from across the classroom for a stress-free teaching and learning experience.
Unlike economy alternatives, YPO Premium Whiteboard Pens have also been specially formulated with the finest quality
vivid European inks
to extend write out length and ensure value for money. In classrooms that use whiteboards often or need their budget to stretch further, these pens are the superior choice.
Suitability
The pens are manufactured with
tough nibs
for a better suitability to the academic environment, as they are able to withstand the higher pressure applied by children without splaying and becoming unusable before their time. They also provide greater accuracy and therefore clarity than softer nibs.
Accuracy and clarity also come from the
fine tips
, which are best for handwriting, calculations and diagrams where precision is required, as well as longer answers that require additional space. YPO's Premium Fine Tip Whiteboard Pens also provide a noticeably finer line than economy alternatives
As
drywipe
pens, the ink will easily wipe off a whiteboard with no need for water or chemicals, and will not leave unsightly stains or marks behind. Any accidental marks can be cleaned from surfaces like tables and chairs too, ensuring whiteboards – as well as your furniture – last a long time.
Made For Children
Despite a fine tip, the pens have a
broad body
for easy grip and control by children who may not have fully developed fine motor skills. This combination makes them ideal for children who are learning new, more complex techniques, without the frustrations of poor control and accuracy.
The single
vented caps
have also been designed with children in mind, drastically reducing the risk of asphyxiation if accidentally swallowed. With a combination of safety features, high-quality and low price, YPO Premium Whiteboard Pens are the best choice for any academic environment.
Not suitable for children under 3 years.For the same product in different pack sizes, please see the following: Pack of 12 - 713619; Pack of 36 - 772024
Black - pack of 200