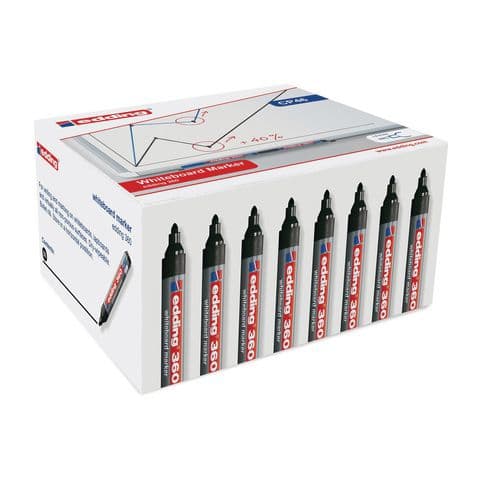 edding 360 Drywipe/Whiteboard Markers, Bullet Tip, Black - Pack of 50
Edding 360 Whiteboard Markers are a premium option designed for use in schools, offices or the home. With an unbeatable cap off life and suited to a variety of surfaces including whiteboards and glass, this incredible value pack of 50 is guaranteed to save you money without compromising on quality.
Cap Off Technology
Edding are a well-respected brand that stand for high quality and specialise in making reliable markers. Whether dealing with a class of children, forgetful adults, or working on the go, this marker can remain uncapped for up to
3 days
without drying out - ready for instant use! This is far superior to other drywipe markers available, and eliminates costly premature replacement.
The cap off technology is possible in part due to the high-quality ink, which is
quick-drying
and lightfast for extreme practicality. It is also
low-odour
and free of butyl acetate for children and adults alike to use safely and without discomfort.
Unbeatable Design
Edding 360 Whiteboard Markers are refillable to reduce waste, and feature a practical clip to secure to clothes and prevent the marker rolling away.
Even strokes can be easily created with the round bullet tip, which is ideal for making thick lines and bold markings that appear satisfyingly vivid and readable from across the room
Unlike the pen-style body of alternatives, these markers also use a much
broader body
that is better suited to quick, less precise work. This makes them especially perfect for young children who may not yet have fully developed their motor skills to hold and control a thinner marker.
Markers vs Pens
Although both are drywipe, these markers differ from whiteboard pens as they not only write on whiteboards, but enamel, melamine, glass, metal, mirrors and other smooth,
non-porous surfaces
too. Permanent markers will also write on such surfaces, but are much harder if not impossible to remove and therefore unsuitable for temporary labels and markings
As a
drywipe
product however, the ink in these Edding markers will easily wipe off whiteboards and non-porous surfaces with no need for water or chemicals, and will not leave unsightly stains behind. To save money on buying both whiteboard pens and other types of markers, Drywipe Markers are the perfect combination
Store in horizontal position.Pack of 10 also available: 734578
Black - pack of 50