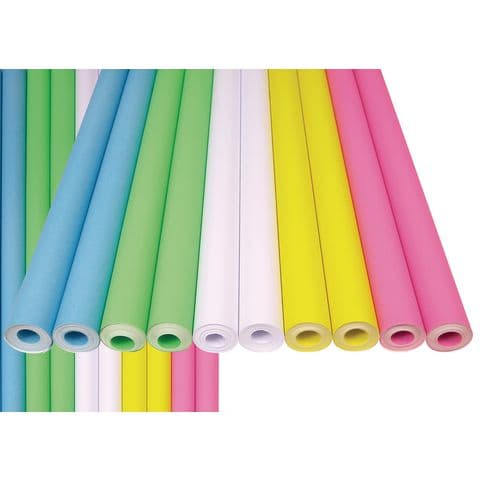 Educraft Superwide Poster Rolls, Assorted Cool Colours, 15m – Pack of 10
Key Features:
• Made from recyclable and biodegradable paper from sustainable sources
• Fade resistant and non-toxic
• Versatile for educational settings and businesses – displays, crafting and more
• Super wide (1.2m) and 15m long – for where extra coverage is required
• 10 rolls – 5 cool colours

These Educraft poster rolls are made from non-toxic paper and have excellent fade-resistance to last longer and save money for your school. This assortment of matt cool colours will give a colourful yet understated look to your displays, and offers versatility for a wide array of themes.

High Quality Paper
Educraft poster paper is manufactured using sustainable FSC®-certified resources, and is 100% recyclable and biodegradable after use so it has minimal impact on the environment. It is also non-toxic for this reason, as well as to ensure maximum safety for children in an educational setting.

Each roll is super wide at 1218mm for those larger jobs, helping reduce the time and effort of cutting sheets, and resulting in a neater, more professional looking finish. At 80gsm, the paper is also strong and high in quality, with low risk of ripping or tearing when in use.

Fade Resistant
Fade resistant poster rolls combat the effects of exposure to long hours of sunlight. This makes them versatile for use on sun-lit walls where displays would otherwise be unsuitable. Compared to alternatives, these rolls ensure the eye-catching cool colours remain as beautiful as the day they were put on display!

As they will not need to be replaced as often, these poster rolls are ideal for long term use, and can even be left in place when the content of the display changes. This will save plenty of money for schools or businesses on a budget too.

Versatile
Poster rolls are primarily used as a backdrop for mounting display materials, both protecting the surface underneath and contributing to the style and theme of a display. They do however have more versatile uses, including for play scenery, wrapping presents, making party decorations, crafting, or protecting book covers such as diaries and scrapbooks.

Colours Included:
•2 x Lemon
•2 x Sky Blue
•2 x Pale Green
•2 x Candy Pink
•2 x White

Dimensions:
•Width: 1218mm
•Length: 15m

Complies with EN71.

FSC®-certified. .