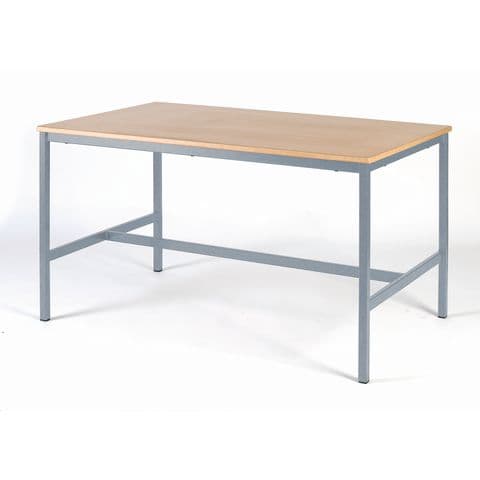 H Frame Table, 25mm Square Tube Legs, Laminate Top, MDF Edges, 850mm(H) – Large
When working on a creative project, it is important to be sitting comfortably. An engrossing project could take hours of work each day, yet is often tarnished with distraction from aches and pains caused by an insufficient workstation. In order to enjoy long periods of work – and stay productive and healthy in the process – a H frame table is an essential in any classroom using stools or high chairs.
Design
Each of these tables has an
850mm
high worktop, specifically designed for arts, crafts and design and technology classrooms where high seating is the norm. When using a stool with a
610mm
seat height, this table will provide
optimal comfort and posture
when working, protecting students from straining to reach a table that is too low. As such subjects can invite hours of seated work, a stool – and accompanying high table – helps them
focus
on their work rather than discomfort, and makes it
easier
to get up and down or change seating position
without causing disruption
.
Small classroom? No problem!
Seats will fit fully underneath
a H frame table to save space and prevent accidents when carrying sharp or heavy tools around a classroom. The underframe also ensures legs don't get tangled underneath for neat and stress-free seat storage.
The
laminate finish
comes in a wide range of colours suited to your preferences, and creates a
smooth, easy-to-clean surface
that is essential when practicing art and other creative endeavors. With a
fully welded H frame
also incorporated into the design,
strength
and
stability
are optimised for the demands of creative subjects, whilst the underframe offers pupils a place to rest their legs for reinforced
posture
and
comfort
. The frame is finished with
Duraform light speckled grey
paint - famous for its
resistance to chips and scratches
- which will help keep your table looking good as new!
Construction
Each of these tables is constructed using
18mm thick MDF
with a
high-pressure laminate finish
. This provides an
inexpensive
yet
durable
and
smooth surface
which makes the table both
stylish
and
functional
in a learning environment. This is accompanied by
polished and lacquered MDF bullnose edges
, which add to the aesthetic whilst simultaneously providing protection against chipping and other accidental damage over time. This is again an
effective yet inexpensive
solution compared to alternatives, as is the
25mm steel square tube frame
which compromises neither on style nor function. The frame has been fully welded to keep the table intact throughout frequent use or re-arrangement, and incorporates a
strong steel underframe
for strength and stability far greater than a standard table can offer. With this combination of features, we can proudly offer a
5 year guarantee
to help you shop with confidence.
Dimensions
850mm x 1500mm x 750mm (H x W x D)
Personalisation
Choose from the following options when ordering to create a look that compliments your classroom:
• Top Colour: Beech; Ailsa; Blue; Grey Speckle; White
PU and Trespa edge options also available.
Delivered fully assembled. Made in the UK. BS EN 1729:2016 compliant to encourage good posture in an educational institution when matched with 610mm stools or high chairs.For the same table in alternate sizes, please see: 850mm(H) Small – D13500; 850mm(H) Medium – D13501; 900mm(H) Small - D13503; 900mm(H) Medium - D13504; 900mm(H) Large - D13505
Important Information - Furniture
• Fabrics - Images are for illustration purposes only, the actual fabric design and colour will be dependent on the fabric type and colour chosen when ordering.
• Colour Options – Colour chart and images shown on screen may vary from actual product.
• Please Note: Check all size, finish, colour options, descriptions and codes as returns may incur charges.
Delivered fully assembled. Made in the UK. BS EN 1729:2016 compliant to encourage good posture in an educational institution when matched with 610mm stools or high chairs.For the same table in alternate sizes, please see: 850mm(H) Small – D13500; 850mm(H) Medium – D13501; 900mm(H) Small - D13503; 900mm(H) Medium - D13504; 900mm(H) Large - D13505