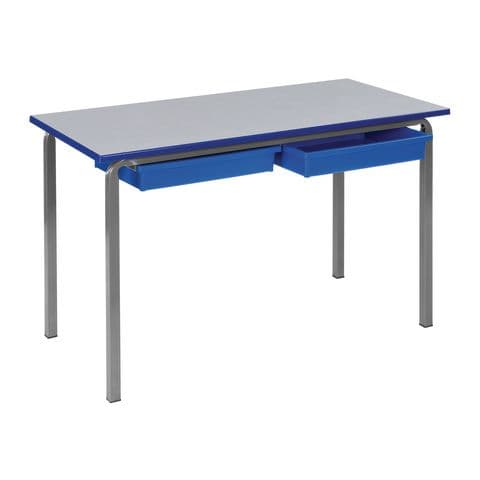 Rectangular Non-Stacking Table with 2 Trays, Ailsa, Slate Crushed Bent Steel Frame, Blue PU Edges – 530mm(H)
A classroom classic, and understandably so, is the crushed bent steel frame rectangular table. After years of research and development, experts at Metalliform have designed the ultimate solution in classroom furniture, taking the most durable materials on the market and finishing them with their own unique, attractive style. With efficient processes and decades in the industry to drive down manufacturing costs, it is impossible to find tables of this quality elsewhere for such a bargain price.
Design
Each table has a
530mm
high worktop, making them
ideal for children aged 4-6
. For optimal comfort, posture, and lumbar support however, it is important to select chairs that suit this height; in this case, chairs with a seat height of
310mm.
In doing so, not only will children
avoid pain and poor posture
during long periods of sitting, but your classroom furniture will also comply with BS EN 1729:2016. These tables come with
blue edges, blue trays
, a
slate frame
and an
Ailsa top
- if a blue silk or beech top would better suit your classroom aesthetic, please see
D24728
or
D24734
, respectively.
These tables are designed with a
classic rectangle
shape to accommodate partnered activities or small work groups, and
optimise space
in a classroom through a
coherent, easy to navigate layout
. With this - in addition to the hardwearing
crushed bent steel frame
finished with smooth, glossy
epoxy powder coating
- it has never been easier to achieve
contemporary style
that is guaranteed to persist in even the most demanding environments.
These tables are unable to be stacked for storage, instead opting for a more
condensed frame design
that allows for a
tight, seamless fit
when tables are pushed together. This is perfect for classes where groupwork is a possibility, and the
aesthetic
and
durability
of a crushed bent steel frame is preferred to that of fully welded alternatives. Although non-stacking tables allow for great versatility in this way, stacking tables are more beneficial for those who may need to frequently clear space in multi-use classrooms. Attached to the frame are
2 trays
, providing space for two pupils to store their work, or - for tables that will be shared with multiple pupils - general storage for books, calculators, stationery and other learning resources. This not only prevents students from losing their work or forgetting to bring it to class, but also makes life easier for teachers who won't have to collect resources back at the end of a lesson. The
76mm deep
trays
match the edge colour
for an
attractive
, complimentary look that will improve every learning environment in both
style
and
practicality
.
Construction
Each of these tables is constructed using
18mm thick MDF
with a
high-pressure laminate finish
. This provides an
inexpensive
yet
durable
and
smooth surface
which makes the table both
stylish
and
functional
in a learning environment. Underneath the table is a pair of
76mm capacity plastic trays
that tuck away neatly when closed so tables can be pushed together without obstruction. The trays are
blue
to match the accompanying
high impact Duraform PU edges
, which again add to the aesthetic whilst simultaneously providing protection. Unlike alternatives, Duraform PU edges are famous for their ability to
resist scratching and chipping
without needing to be re-treated over time. Duraform is also applied as a spray so
cannot be picked off
by bored pupils.
Also durable is the
crushed bent steel frame
underneath, which provides
unmatched resilience
when supporting heavy weight, and is
longer lasting
than any other frame material on the market. Its epoxy powder coating finish is
resistant to abrasions, impact, temperature and chemicals,
helping protect the look of the frame throughout its lifespan. In fact, with this combination of materials, we can proudly offer a
15 year guarantee
to help your school make the most of its tight budget.
Dimensions
• Table: 530mm x 1100mm x 550mm (H x W x D)
• Trays: 76mm x 312mm x 426mm (H x W x D)
Delivered fully assembled. Made in the UK.For the same table in alternative heights, please see: 460mm(H) - D11813; 590mm(H) – D11815; 640mm(H) - D11813; 590mm(H) – D11815; 640mm(H) - D11816; 710mm(H) - D11817; 760mm(H) – D19506