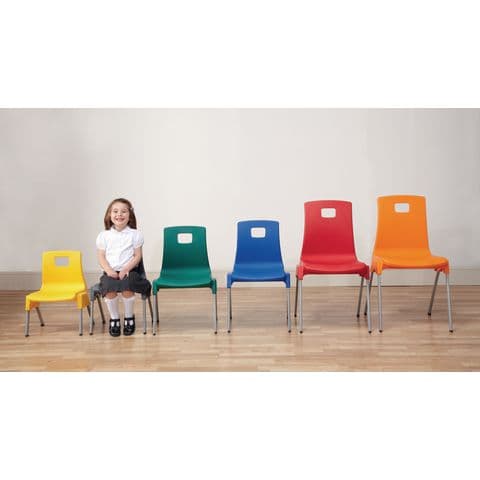 ST Classroom Chair, Assorted Shell Colours – 260mm(SH)
ST chairs are the ultimate classroom seating solution. With an intelligent construction and beautiful, ergonomic design, each chair is built to last in a learning environment without compromising on comfort, style or safety. The staggering 15-year guarantee confirms the ST chair is the highest quality product of its kind, and a worthy investment for any school.
Design
Each chair has a
260mm
seat height, making them
ideal for children aged 3-4.
For optimal comfort, posture and support when working however, it is important to select tables that suit this height; in this case, tables with a height of
460mm
. In doing so, not only will children
avoid pain and poor posture
, but your classroom furniture will also comply with BS EN 1729:2016.
The design of the ST chair makes them the
safest and most comfortable
classroom chair on the market. Informed by
scientific
research, an
ergonomic design
ensures
correct posture
throughout the school day,
supporting
the entire length of the spine to
prevent back problems
in both the present and future. As they have been specifically designed for a classroom setting, ST chairs also incorporate a
carry handle
in the shell for safer and more
efficient
movement or stacking, which - with the
lightweight
construction - will prove to be an easy task. You can stack these chairs to a limit of
10 chairs high
for compact storage.
Aesthetically, the
smooth lines
of the chair create a
clean shape
that
modernises
any environment without appearing conceited. There are
10 popular colours
to choose from, and due to the success of the ST chair, we are able to offer
7-10 day delivery
on each one.
Construction
Each ST chair is constructed from
polypropylene
- an
easy-cleaning, hard-wearing
material that can withstand frequent use and heavy weight. These benefits are unmatched by other materials, and have led to polypropylene becoming the most common material for classroom chairs – there's no need to break the bank on pricey alternatives offering the same quality!
The
anti-tilt leg style
has been chosen to
reduce the risk of accidents
and prevent purposeful rocking that also puts children at risk and causes distraction. Unlike alternatives where the frame attaches to the undercarriage for support, ST chair frames are attached through insertion points at the sides of the shell, and encased in the polypropylene. This ensures a
sturdy, tamperproof
attachment, and makes way for the inclusion of a
strong, reinforced polypropylene undercarriage
that supports the user with
superior durability and comfort
. Just as this construction gives
softer support
below, the absence of frame at the rear allows the shell to moderately
recline
with the user, promoting muscle movement and blood flow to prevent fatigue, and keeping the user safe, comfortable and focussed for the whole day.
Each element of the carefully planned construction allows us to offer an unbeatable
15 year guarantee
– with this level of quality and durability, there is no better value option for your school.
Dimensions
260mm x 523mm x 370mm (SH x H x W)
Personalisation
Choose from the following options when ordering to create a look that compliments your classroom:
• Shell Colour: Charcoal; Blue; Soft Blue; Green; Tangy Green; Purple; Lilac; Orange; Red; Yellow
Delivered fully assembled. Made in the UK. BS EN 1729:2016 compliant to encourage good posture in an educational institution when matched with 460mm tables.For the same product in alternative heights, please see: 310mm(SH) – D26353; 350mm(SH) – D26354; 380mm(SH) – D26355; 430mm(SH) – D26356; 460mm(SH) – D26357
Important Information - Furniture
• Fabrics - Images are for illustration purposes only, the actual fabric design and colour will be dependent on the fabric type and colour chosen when ordering.
• Colour Options – Colour chart and images shown on screen may vary from actual product.
• Please Note: Check all size, finish, colour options, descriptions and codes as returns may incur charges.
Delivered fully assembled. Made in the UK. BS EN 1729:2016 compliant to encourage good posture in an educational institution when matched with 460mm tables.For the same product in alternative heights, please see: 310mm(SH) – D26353; 350mm(SH) – D26354; 380mm(SH) – D26355; 430mm(SH) – D26356; 460mm(SH) – D26357