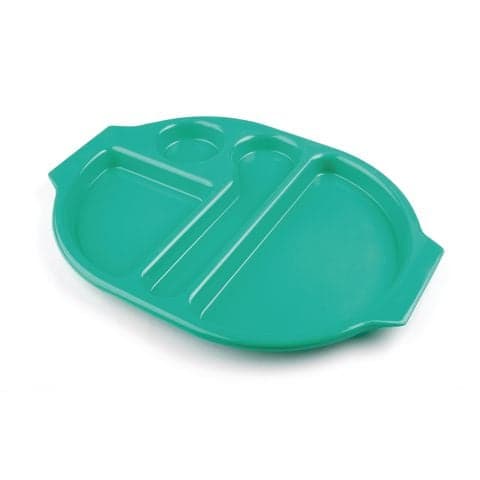 Harfield Large Meal Tray, 4 Compartments – Emerald Green
Key Features:
•4 compartments – mains, sides/desserts, cutlery and drinks
•Made from polycarbonate - virtually unbreakable
•Easy to clean, stain-resistant, non-shatter
•Dishwasher and sterilising sink safe
•38 x 28cm – Emerald Green

Harfield takes this canteen staple to an unmatched level of quality with their Large Meal Trays. Comprising of four compartments and constructed to be virtually unbreakable, Harfield Large Meal Trays are an essential in any education, hospitality or healthcare canteen setting.

Compartments
The trays comprise of four compartments. The largest is intended for main meals, with another 3/4 of the size for sides, fruit, yoghurts, or hot desserts. In the middle is a cutlery compartment that can comfortably accommodate a fork, knife and spoon, whilst the remaining space houses a tumbler for drinks. With this multi-faceted design, kitchen staff can prepare trays in advance to reduce queueing time, and eliminate multiple trips to serving areas.

Unbreakable
Each tray is made from polycarbonate – a virtually unbreakable material that is sure to last. The extreme durability ensures the trays can withstand heat from food, and will not bend, shatter or splinter when dropped. Polycarbonate is also highly stain resistant, meaning that familiar unsightly orange tint won't be appearing any time soon, much to the reassurance of diners in regards to hygiene.

Convenient
As this material is extremely easy to wash, it will save staff a lot of effort when washing up, although the trays are also dishwasher and sterilising sink safe for your convenience. Very lightweight in design and incorporating carry handles, polycarbonate trays are especially ideal for use by children in order to prevent spillages when loaded with food and drink.

These trays are provided in emerald green to match your preference, school colours or furniture. Matching Harfield cutlery and tableware is also available at YPO to complete your collection, including bowls, tumblers and plates. Choose the large Meal Tray where larger tableware will be used for older children or adult sized portions.

Dimensions:
•38 x 28cm (15 x 11 inches)

Polycarbonate is 100% recyclable. .