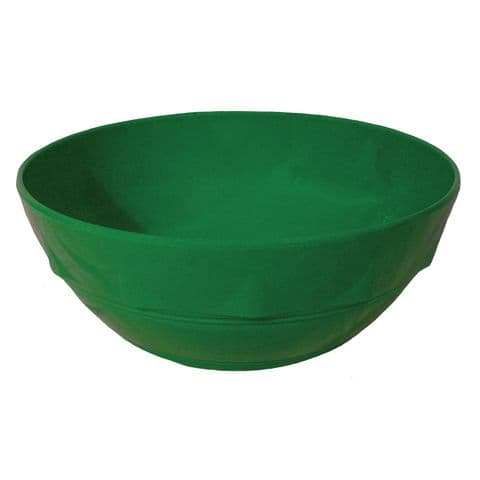 Harfield Round Bowl, 12cm, Emerald Green – Pack of 10
Key Features:
•Versatile for desserts, snacks, dips, salads and more
•Made from polycarbonate - virtually unbreakable
•Easy to clean, stain-resistant, non-shatter
•Dishwasher and microwave safe
•12cm/350ml – Emerald Green

Harfield takes this canteen staple to an unmatched level of quality with their 12cm Bowls. Virtually unbreakable and boasting versatile uses from hot desserts to dips, snacks and microwaved leftovers, Harfield 12cm Round Bowls are an everyday essential in any education, hospitality or healthcare canteen setting.

Design
The bowls have generous 350ml capacity to ensure they provide enough food for adults as well as children. Bowl size is also especially important in canteens who need to control portions for health or cost-saving reasons, and will ensure everybody gets fed a fair amount!

These round bowls are much more versatile and easy to use compared to sundae dishes, as they perfectly balance width and height to accommodate different types of foods, and will distribute temperature more evenly. Food can also lie flatter than in a tall sundae dish for better presentation and easier eating. Unlike rimmed bowls, these bowls also save space in storage and on your tray, and are designed for foods that will not require a rim as spillage risk is low.

Versatile
Each versatile bowl has a 350ml capacity, making it the perfect size for portions of puddings and desserts including ice cream, custard, cake or trifle. They can also be used for savoury options or sides such as yoghurt, salads or fruit, as well as crisps, dips and condiments! The bowls are suitable for hot food too, and are microwave safe for reheating leftovers. This is thanks to the incredible properties of the polycarbonate material.

Unbreakable
Each bowl is made from polycarbonate – a virtually unbreakable material that is sure to last. The extreme durability ensures the bowls can withstand heat from food, and will not bend, shatter or splinter when dropped. The non-shatter properties also make the bowls suitable for both indoor and outdoor use during picnics, BBQs, parties or warm days on the playground - which will also help eliminate the litter caused by single-use alternatives!

Polycarbonate is also highly stain resistant, meaning that familiar unsightly orange tint won't be appearing any time soon, much to the reassurance of diners in regards to hygiene.

Convenient
As this material is extremely easy to wash, it will save staff a lot of effort when washing up, although the bowls are also dishwasher safe for your convenience. Very lightweight in design, polycarbonate bowls are especially ideal for use by children in order to prevent spillages when loaded with food.

These bowls are provided in emerald green to match your preference, school colours or other tableware. Matching Harfield cutlery and tableware is also available at YPO to complete your collection, including forks, knives, plates and trays.

Dimensions:
• Diameter – 12cm (4.7 inches)
• Height – 5cm (2 inches)
• Capacity – 350ml (12 fl. ozs)

This product is 100% recyclable. .