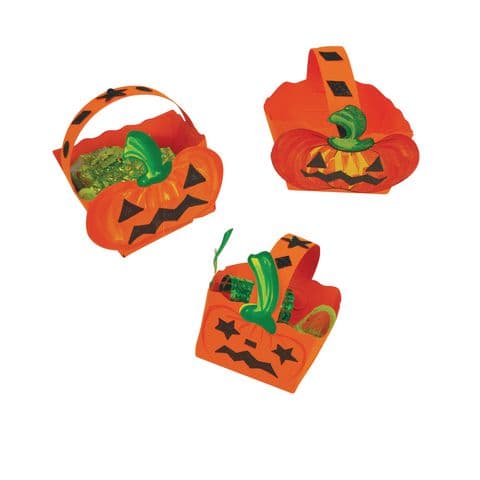 Halloween Trick and Treat Boxes - Pack of 30
Key Features:
• Easy to follow instructions
• Fun for all ages
• Includes boxes, handles, pumpkin templates and black glitter shapes
• Perfect for trick or treating or taking home as a gift
• Makes 30 boxes

Trick or treat? Let them decide with these fun Halloween Trick and Treat Boxes! This activity is the perfect way to keep kids creative and having fun whilst simultaneously teaching them important skills such as 2D and 3D conceptualization.

Each pack contains enough materials to make 30 spooky pumpkin boxes so the whole class can join in the wholesome Halloween fun.

Children will start out by folding up one of the boxes – easy enough for them to do on their own – then create a face by attaching one of the printed pumpkin templates and decorating to their heart's content using pens, stickers, glitter, cotton wool balls, pipecleaners or anything else laying around! Included are a variety of star, circle and diamond shaped black glitter stickers to add extra special facial features or simply create a pretty pattern.

Once they are done decorating, children can fill the basket with any tricks or treats of their choice, then pop the handle onto the box to proudly carry around or take home to show off to friends and family. They also make a wonderful gift for treating their loved ones (or tricking their enemies)!

Size including handle:
• H: 140mm
• W: 100mm
• D: 100mm

Pack contains unfolded boxes, handles, printed pumpkin templates and sticker sets to make 30 boxes.