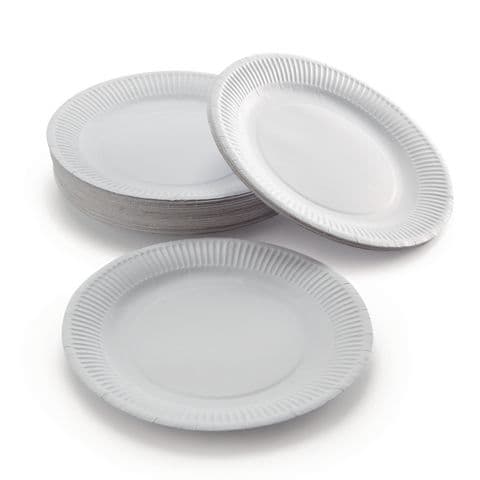 Paper Plates, Uncoated – 230mm(Dia)
Key Features:
•Perfect for picnics, buffets, parties and large groups of guests
•Uncoated – suitable for serving dry goods or crafting
•Safe – won't smash, microwave suitable, ribbed edge resists bending
•Convenient – no washing up, stackable storage, lightweight for travel
•Pack of 100 – 230mm Diameter
This value pack of 100 white uncoated paper plates is ideal for stocking up to serve guests at a moment's notice. Keep them in your pantry or office cupboard for serving dry goods to large groups without the hassle of cleaning up afterwards.
Paper vs Ceramic
Compared to ordinary plates, paper plates are perfect for large groups, special events, the outdoors, or spaces that don't have catering or washing up facilities. An ultra-safe and versatile option, paper plates are stackable for easy storage, lightweight for travel, microwave-safe, and will not smash if dropped by children. When catering large events such as receptions, parties and buffets, staff will appreciate the saved time and effort of not having to wash up, with hosts sure to notice the saving in their water bill too!
High Quality at a Low Price
These particular plates are uncoated, meaning they are better for the environment and easier to recycle. This also makes them best suited to cold foods and those without much grease or moisture, such as sandwiches, cake, pizza, nuts, crisps and other buffet nibbles.
Despite an economy price, the plates have been developed to the highest quality from food-safe board, and feature a deep ribbed rim for additional strength and stability. Each 15cm/6in plate can be filled with food without risk of breakage and is easy to carry across a room without spilling food.
Versatile
Not only are paper plates ideal for picnics, parties and buffets, but they can be used for crafts too! The uncoated surface is easy to decorate with pen, pencil, paint and glued objects, and can be cut and stapled no problem at all to create cute characters and funky 3D projects
For the same plates in alternate sizes, please see the following: 150mm - 250139; 178mm - 250147
.