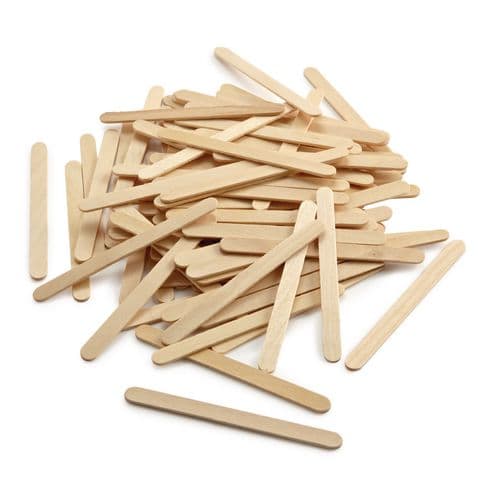 Wooden Lolly Sticks, Natural Wood – Pack of 1000
Key Features:
•Natural wood material
•Round ended for safety
•Use for arts and crafts, counting, catering and more
•Simple to use for all ages and abilities
•Pack of 1000

Lolly sticks are a versatile tool in both the classroom and the kitchen! Whether making ice lollies, teaching counting, or creating arts and crafts, you are sure to find a use for them in your school.

Lolly sticks are extremely easy to use, making them perfect for young children who are frustrated with their limited ability with pens or paints. With just a little bit of glue and creativity, children can create landscapes, buildings, characters and more with their lolly sticks, which will then also act as a helpful guideline for neat colouring in. They are also great for making photo frames, plant labels, decorations and other 3D crafts – as well as ice lollies of course!

As they are made from natural wood, these lolly sticks are a lot better for the planet than alternative crafting mediums, many of which still use plastic. The wood is also safe to put in the mouth, round ended to avoid accidents, and will not cause splinters.

Whether it's lollies in the summer or crafts in the winter, there is always a fun activity to be had with lolly sticks, proving this pack of 1000 to be a fantastic investment for your school.

Dimensions:
• W: 10mm
• L: 114mm
• D: 2mm .