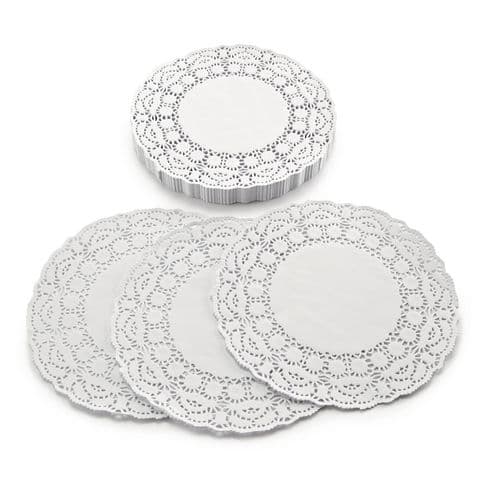 Disposable Doylies, 215mm(Dia) – Pack of 250
Key Features:
•Thick paper protects your furniture from spillages and crockery scratches
•Improve presentation and add sophistication to a dining experience
•Disposable – save time and effort for busy cleaning staff
•White with beautiful, patterned design
•Pack of 250 – 215mm(Dia)
These paper doylies ensure your tables can be kept clean and tidy during big events to save time and effort for your staff! Every school and workplace canteen should keep doylies on hand for Christmas dinners, corporate events, buffets and more where drinks will be shared out.
Made from Paper
Made from paper, rest assured the doylies boast a low carbon footprint, and can be recycled for your peace of mind. The paper is thick enough to ensure liquid from a wet glass won't seep through to damage your table, and will prevent crockery from scratching your delicate fine-wood furniture.
Versatile
White in colour, these doylies are versatile for year-round use at any event or celebration. They are ideal for use by children who are notorious for spillages, as well as adults drinking wine or coffee that could permanently stain furniture. As a disposable product, doylies are preferable to coasters at large scale events where many guests will be hosted, and non-disposables are simply too expensive to buy or too time consuming for staff to clean afterwards.
Improve Presentation
The attractive patterned edge design is instantly recognisable by children and adults alike and ensures the doylies are not misused or mistakenly thrown away. The design will improve presentation at restaurants and is sophisticated enough for use at formal or corporate events where impressions matter - yet it still retains its homely charm for afternoon tea and other casual get togethers.
For the same product in alternate sizes, please see the following: 190mm(Dia) - 249165; 240mm(Dia) - 249181
.