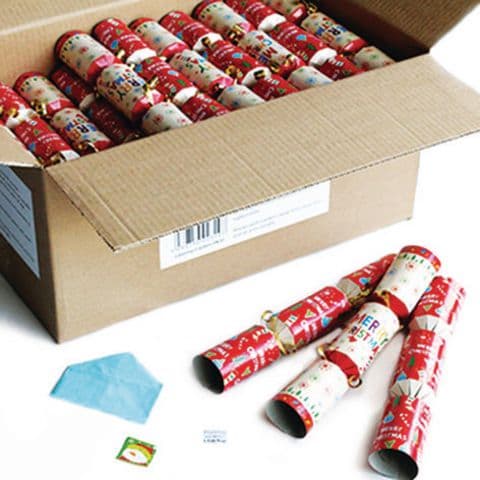 Christmas Crackers – Pack of 100
Key Features:
•Robust card with beautiful festive design
•Contains a hat, sticker and joke
•Suitable for children and adults
•25cm in length
•Pack of 100 – perfect for parties, schools and offices

What's a Christmas party without a few crackers? At YPO, we know you don't want to break the bank for this absolute must have when there are dinners, DJs and decorations to consider too. This pack of 100 has got you covered. Made with fantastic quality and at an astonishingly low price, each cracker is sure to put a smile on every child's face this year - so long as they win of course!

These crackers contain all the classics, with a hat and a cheesy joke guaranteed every time. Rather than a toy that will increase the cost, cause arguments and likely end up in landfill however, each cracker instead contains a sticker as the main prize, featuring a variety of cute Christmas motifs from penguins to snowmen, reindeers and more. Whether they stick it to their backpack, exercise book or ID card, they will always be able to remember the fun they had at your Christmas party!

The design itself is high quality in comparison to other money saving options, with a robust card body sealed with glistening golden ribbon, and adorned by one of two gorgeous, shiny festive designs. The crackers are neither too easy for adults nor too difficult for children to pull, and will make a classic snap sound when opened. At 25cm, they are barely smaller than average size, making them also easier to store without straying too far from tradition.

A pack of 100 is the ideal size for school dinners, work parties and other large festive occasions. Each hat is one size fits all for both adults and children, and all jokes are easy for children to understand whilst also making adults laugh too! .