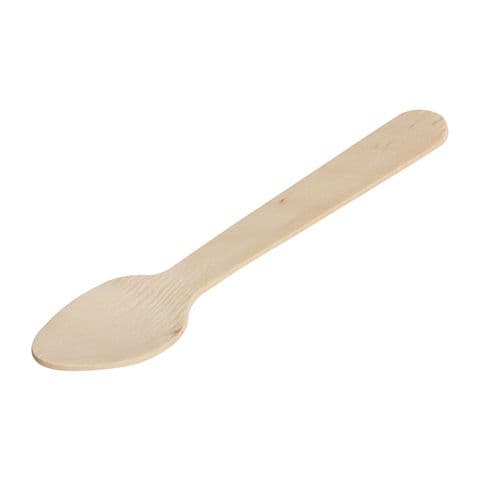 Biodegradable Wooden Teaspoons, 110mm(L) – Pack of 100
Key Features:
•Birch wood – sustainably sourced and plastic free
•Biodegradable – will break down into the earth quickly and safely
•Break-resistant sturdy handle for safely stirring hot drinks
•Smooth design to prevent splinters
•Perfect for corporate events, parties, buffets, weddings and picnics
•Pack of 100 – 110mm Length

These wooden teaspoons are a fantastic alternative to plastic cutlery for our increasingly eco-conscious society. Carefully designed to replicate the quality of plastic, wooden spoons are highly recommended in school and workplace canteens to reduce single-use plastic waste that is destroying the atmosphere, the oceans, and our ecosystems.

Sturdy, High Quality Design
Each spoon is carefully shaped and sharpened out of birch wood harvested from renewable FSC certified sources. Birch is a strong, sturdy material that ensures you can eat your food without the spoons bending or breaking, although any breakages that do occur will not be sharp and dangerous as with plastic cutlery. This makes them especially safe for use by children, as does the smooth sanded finish that prevents splinters and ensures comfortable use. The wood is also certified food-safe and will not impact the taste of your food or drinks.

Biodegradable
With a biodegradable design, the spoons will quickly and safely break down into the earth once disposed of without harming the atmosphere or environment. Although not widely accepted for recycling, you can rest assured that wooden spoons won't spend years sitting in landfill when put in a non-recycling bin.

As disposable cutlery is popular at outdoor events, venues without adequate waste disposal, and parties, buffets, weddings and picnics where minds are focused elsewhere, litter is a likely possibility. This makes biodegradable cutlery an absolute necessity where plastic alternatives would otherwise take years to break down and cause potential harm to wild animals.

Loved by Customers
These spoons are recommended for use in schools, offices, workplace canteens, takeaways, cafes and hotels to show you are a company that care. Customers will instantly recognise the attractive, rustic design as natural and eco-friendly, and feel much more at ease when eating food and stirring drinks.

Customers will also love the smooth wooden finish that is comfortable in the hand, and the sturdy bend and break-resistant design that allows easy enjoyment of yoghurts and other soft foods. The spoons are also carefully designed so you can take your time to enjoy such foods or stir hot drinks without the wood becoming soggy and in need of replacement.

Whether you are hosting a one-off event or catering year-round, wooden cutlery is the best single-use option from every perspective.

Suitable for temperatures up to 100°C. Not microwave safe. ISO 9001-2000 UKAS. .