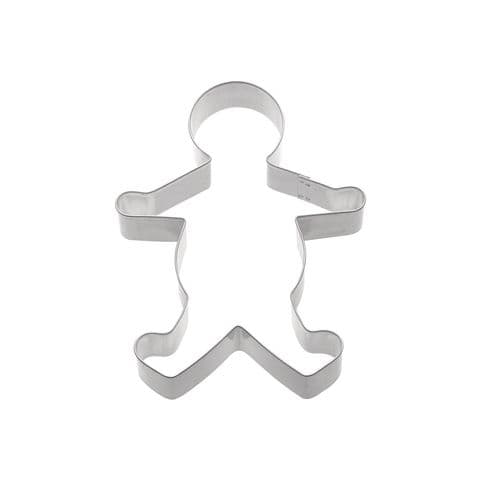 Gingerbread Man Cookie Cutter
Key Features:
•Perfect for cookies, sandwiches and fondant
•Metal – durable for repeat use
•Food safe
•Straight edge to effortlessly cut
•Gingerbread man design – 8.5cm
This classic gingerbread man design cookie cutter is an essential for baking at schools, out-of-school clubs or at home. With a strong metal construction that is versatile and easy to use, it has never been easier to bake fun shaped desserts!
Easy to Use
Cookie cutters make baking so much easier so everyone can join in the fun! Children will love cutting their own perfect cookie shapes, and adults require no expertise at all to make a well-presented and tasty treat for their loved ones to enjoy.
Versatile
They're not just for cookies! Use these cutters to cut sandwiches into shapes that children will actually eat, or use them to comfortably cut through dough, fondant, flapjacks, brownies and more! They can also be used for crafting with clay or playdough - just make sure you wash them thoroughly afterwards.
Premium Quality
These cookie cutters are made from metal that will not rust or become misshapen, making them perfect for the demands of the kitchen and suitable for using again and again, year after year. Made to food safe standards, they will also not contaminate food or alter its taste or smell, and can resist the high temperatures of the kitchen.
The straight edges of the cutter are sharp to cut through food, whilst the folded edges on the other side are kind to hands and will not cause harm to the user. Although they are safe for children to use, please note these cookie cutters are not suitable for use by children under 3 years of age.
Dimensions:
•H: 25mm
•W: 70mm
•D: 85mm
This product makes the perfect accompaniment to our Christmas cookie cutter collection: Tree – 235105; Bell - 23530x; Angel – 235326; Reindeer – 235342Handwash only. Suitable for ages 3+.